Can you believe that it is the last day of April?????  I sure can't!  In fact, as I am getting ready to tear this month off of the calendars in my room, I am absolutely amazed.  We have four and a half more weeks of school left.  I have no idea where the time went!  But alas, I do still have four more weeks, so I must hurry along so I can focus on my lessons.  Let me answer Joyce's questions before returning to education-minded tasks.
1.  April showers bring May flowers or so the saying goes. Are you blooming where you're planted as we begin the month of May?
Bloom where you are planted.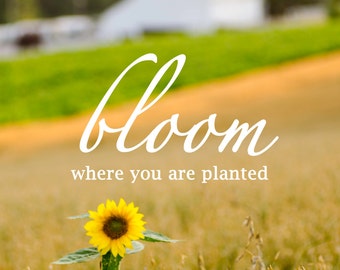 This was on a plaque my high school English teacher's kept on her desk, and it's always stuck with me.  I blogged about the motto, and her impact on my life, here.  I also blogged about this theme as I was getting my very first classroom ready nearly five years ago.
So, am I blooming where I'm planted?
I can answer with a confident YES!  In fact, it's been the motto for my life.  In every job I've held, I have excelled.  That's not because jobs have come easily for me, but because I've worked very hard to learn how to complete my responsibilities to my fullest ability.
My mom was never happy with shoddy work.  It didn't matter if I was cleaning the house or fixing my hair.  Perfection was her goal and, thus, mine.
I have found teaching to be a difficult skill to master.  I'm not sure that I'll ever quite master it, but I am most definitely blooming as my roots grow deeper into the soil of professional development, gentle nurturing by the mentors in my life, and a personal demand for excellence.
I can see the results on my students' faces as they enter class each day…when we have discussions about their learning and my teaching…when they share their deepest concerns with complete trust in me.
Yes, I am blooming, and I give God all the glory for His sustenance and love that fertilize my soul every day.
2.  On a scale of 1-10, with 1 being no big deal, and 10 being full scale panic, rank your fear of spiders.
A picture paints a thousand words…
3.  May is National Salad Month (who knew???)…besides lettuce, what are two must-have ingredients in your favorite salad?
I really like almond slivers, for the texture, and tomatoes.  I just love salads, so pretty much whatever you put on one (vegan-friendly), I'm good to go!
4.  I mentioned on my blog last week that my Daughter1 will be moving to Washington State after she is married. Of the following sites in the Northwest, which would you most like to see in person-Crater Lake (Oregon), Seattle (Washington), Vancouver (British Columbia), San Juan Islands (Washington),  Mt. Rainer (Washington) Oregon Coast (Oregon), Mt. St. Helens (Washington), or Olympic National Park (Washington)
I've seen Mt. Ranier, from the air, and it is gorgeous!  I've also seen Vancouver and Seattle.  Lovely cities!!!  I think I'd enjoy seeing Mt. St. Helens…especially after wondering about it many years after the volcanic explosion during the 80's.  I remember reading stories and seeing news reports about the mountain's healing.
5.  This coming weekend marks the 140th running of the Kentucky Derby…when did you last race (literally or figuratively) to cross a finish line?
This past Sunday, I worked feverishly to finish a blanket for a coworker.  We had her baby shower on Monday.
The blanket, hats, and wash cloth were much appreciated.
6.  What is something little you love?
I love my little Ravetar…my robes, so to speak, for the new Harry Potter Knit/Crochet House Cup term.  Remember that I am a knitting nerd.  This term (the next three months), I'll be one of two moderators for the Eye Candy thread.  I was asked to do this after someone noticed that I'd been giving positive feedback to the finished projects people had been posted.  I guess that's just my teacher self coming out…wanting to kudos whenever possible.
7.  Would you say you are more of a visual, auditory, or kinesthetic learner? Elaborate.
I am definitely a kinesthetic learner.  I learn best by doing, as evidenced by my many how-to posts.
8.  My Random Thought
Need further proof of my HP nerdiness?
Take a look at the picture I edited using pixlr.
I've also decided that I MUST have the following pair of shoes…
Sorry.  The new term officially starts on the 1st.  I'm overworked and desperate for some non-teacher fun!
Filed under: Knitting, This-n-That | Tagged: Harry Potter, Hufflepuff, ravelry, Wednesday Hodgepodge | 1 Comment »