It's Thursday night as I'm composing this post, and I am stressed.
Why am I stressed, you might wonder?  After all, it is summer vacation, so I shouldn't be.
I should be happily enjoying a book . . . by the pool . . .
I won't let the answer float around for long.
Florida teachers who, about a week ago, bade adieu to our precious students, are starting to receive test scores for the recent administration of the Florida Standards Assessment (FSA).
It is my sincerest belief that his event trumps all others as the most stressful time of the year.  The state, after all, has trained us that all of our value is derived from the magical numbers associated with such scores.
It is extremely nerve wracking to pull up rosters of children we spent ten months with and go through each name to see how they fared on a test that is "supposedly" designed to showcase their knowledge.
Ahem.
I've written about this before, but it bears repeating because the Powers that Be never seem to listen:  What the heck are the people in office thinking?
We teachers see our students as kids with faces . . . stories that differ as much as their individual DNA patterns.  The state thinks that they are all molded from the same clay and should, therefore, fit easily into cleverly designed categories.
We teachers know that our students arrive on test day with a lot of baggage . . . homelessness, frequent absenteeism, behavior issues, hunger, single or no-parent homes . . . the list goes on and on.
The state thinks that students can turn on a switch and perform on command . . . forget about the emotional stuff weighing them down.  They are, essentially, expected to be robots.
I'd love to see open-ended questions that ask students to describe books they read during the school year, because if we teachers have done our jobs properly, we will have fostered some sort of love for reading (or at least started the process).
I bet our kids would be shocked to see a question that asked them to draw a picture of the plot of a story they read.  My kids would ace this type of question . . . one that would allow them to express their knowledge in a creative manner that goes beyond A, B, C, or D.
Yeah, I'm sure those questions would get scrapped pretty quickly if they were ever mentioned during test question discussion forums.
After all, you can't exactly quantify such answers, now can you, and the state is all about its numbers.
Looking through scores and comparing them to the previous year's to determine learning gains produces much anxiety.  Take a look at this chart, published in the FSA manual . . .
That right there is how the state decides if a child improved or not and is part of the equation that determines if a teacher is worth his or her salt.
Seems rather fair, doesn't it.
Ahem.
There are so many things you cannot assign a number to.
I'd like to see the state award extra points to the kids who come to school on the rainiest of days despite living on dirt roads where their buses won't drive.
Points should be given to the kids who stayed up all night babysitting younger siblings because parents had to work double shifts to make ends meet.
We should double the amount of bonus points every time a student finishes a book and loudly exclaims how much he/she enjoyed it.  All of my students would get these points if that were the case because not a single one leaves my classroom without being able to talk about at least one book that touched their heart (or a series of them, in many cases).
What about the kids who walk or skateboard to school because the bus won't drive out that far to get them and they have parents who are sleeping off the night shift when it's time for their children to get to school?  They should be awarded a few points too.
But the state doesn't care.  Nowhere in their magical formula is there a place for such seemingly "anomalies."  Isn't an anomaly something that is rare?  In many schools around Florida, this stuff is the norm.  Dare I say that those who make the rules are completely out of touch with the everyday "minutia" that truly is the education system.
Before I became a teacher, I was one of those "out of touch" people who had no clue what a real school looked like.
Now, I understand.
A real school is one that accepts every child, regardless of ethnicity, learning ability, or gender.  A real school accepts teachers who are just learning the ropes . . . who might have the "with-it-ness" but need time to learn a few of the basics without being completely punished for lack of experience.  A real school is one where the staff builds relationships with the kids with the knowledge that sometimes it takes a few years for the kids to grow up but, in the end, they will, and they will be celebrated as they walk across the stage to accept their diplomas.  Why punish them in the meantime if they don't make the cut score?
To be sure, test scores can and should be used as a jumping point for reflection, both on the part of teachers, administrators and students; however, the numbers should not be the end-all, be-all.  I wish with all of my heart that the public wasn't so hung up by the numbers and could see past them to the faces that the numbers represent.  Each face has a story; each story will tug at the sternest of hearts.
The state should place a higher priority on the business of raising children.  Doing so would naturally result in high achievement scores as students would finally believe that others are there supporting them, lifting them up when they can't stand on their own, and eventually releasing them to fly unassisted.
As it is, the kids know that at the end of the day, it all boils down to The Test.
Which stresses them out.
Which takes us full circle.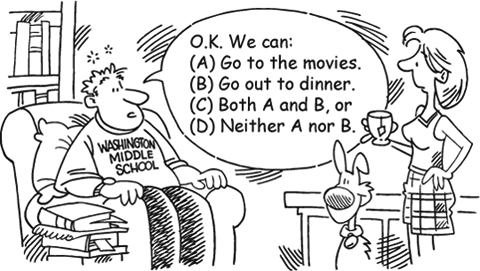 I vote for E . . . sleep all summer until it's time to do it all again.