So, it's summer vacation, and the television is full of reruns, if you don't count America's Next Food Network Star, So You Think You Can Dance, and MasterChef…a few of my favorites.
Because of that, I've been turning to Netflix and have watched my way through a couple of shows.
Getting bored and loving shows that mix history with drama, I turned on Borgia.
Oh.
My.
Gosh.
This show is about Vatican intrigue back in the late 1400's.
Holy.
Cow.
While the political maneuvering of men trying to become Pope was interesting, what was shocking was the sexual stuff.
I quickly gave up the show.  It was GRAPHIC!
Next, I thought I'd try Spartacus.  I love anything to do with Roman gladiators.
Once again, what got me, besides the vile curse words, was the SEX!
I didn't even finish the first episode.
So then last night, I thought, "Self, everyone keeps talking about the show Orange is the New Black.  Get with the times, Self, and find out what the buzz is about."
And then the opening scene.
Nakedness.
Sex.
I knew that this show took place in prison, but c'mon…give me a break.
And there were women.
Oh my eyes.  I just wanted to gouge them out.
After that, I started perusing more carefully and noticed that little thing called a "Rating."
It would seem that all of the "popular" shows have a MA rating…
For Mature Audience.
Um, okayyyyyyy.
Mature.
That got me to thinking.
Who, exactly, is defining the word "mature?"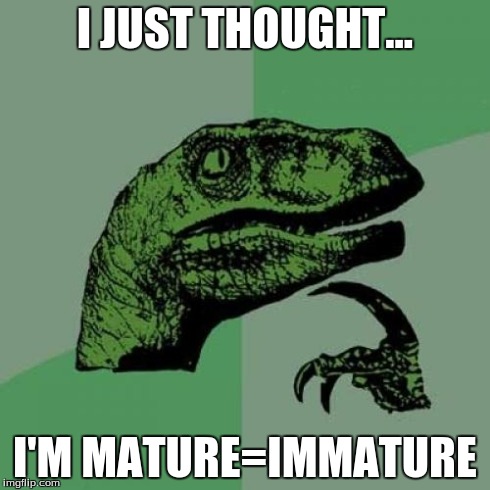 Apparently, television producers think that the definition involves lots of sex and every descriptive, disgusting word to describe the act of sex and anything related to it.
Because, of course, one must be "mature" to view such things and put such things into one's ears.
Excuse me for not getting this concept…especially because I teach teenagers who giggle or laugh raunchily at anything remotely related to sex.  They are most definitely NOT mature young people.
Shouldn't we define mature as being wise enough to not need such devices to be entertained or to learn some hidden lesson such as valor, loyalty, or perseverance?
I suspect that these producers add in such fillers to divert viewers from poor dialogue or disjointed plots.
They take us for fools, and we play right into their hands.
What I'm seeing is that it takes a MATURE person to go against the grain and turn off this type of garbage and walk away.
I've gotta tell you something that popped into my head as I exited from one show.
Society is traveling the same path that led to Sodom and Gomorrah's downfall.  We just have new formats to promote and display our lewdness.
I am not perfect and do not claim to be; however, what I have seen is 1) the temptation to fall in with the supposed "mature" crowd, 2) the struggle to turn away from it, and 3) the realization that yes, it's a choice, and one I made because I serve a risen Savior who I could never fathom watching these shows with.
I really wish the label would change from MA to SEX, so that mature people, like those of us making positive choices, wouldn't be fooled and would know, right away, not to press the Start buttons on our remote controls.
Filed under: This-n-That |