Yesterday, I dressed carefully.
I was on a mission…seeking vindication for a comment one of my classes made on Friday.
The Basic White Girl comment.
I blogged about it a couple of days ago.
I pulled out the dress I wore Christmas Eve but decided to make a bold move.
I paired it with the pair of boots I purchased after Christmas at Kohls.
I stood on the toilet lid in my bathroom and sent a mirror selfie to my friend, Megan.
She's my resident fashionista and a fellow teaching friend at my school.
She's also almost twenty years younger than me.
That makes her cool.
She's also not basic.
Ahem.
She gave her approval (yay me!), assured me it was most definitely not a basic outfit, and I took one more selfie with my self timer…
Because I am, at my core, basic.
I was a little nervous.
I'd normally pair the dress with heels.
I was stepping out of my comfort zone.
My first class arrived to my room, and one of my boys gave me a look-over.
I heard him say the word "boots," but then we got busy with bellwork.
During the break,he told me that my boots were "on fleek."
Um, what the heck?
I made him spell the word for me…
I've taught my kids how to use context clues to find out the meaning of unfamiliar words, but I could not figure out this strange phrase.
I asked him to use it in context.
He said, basically, what's in the captions below…
Want a cuter meme?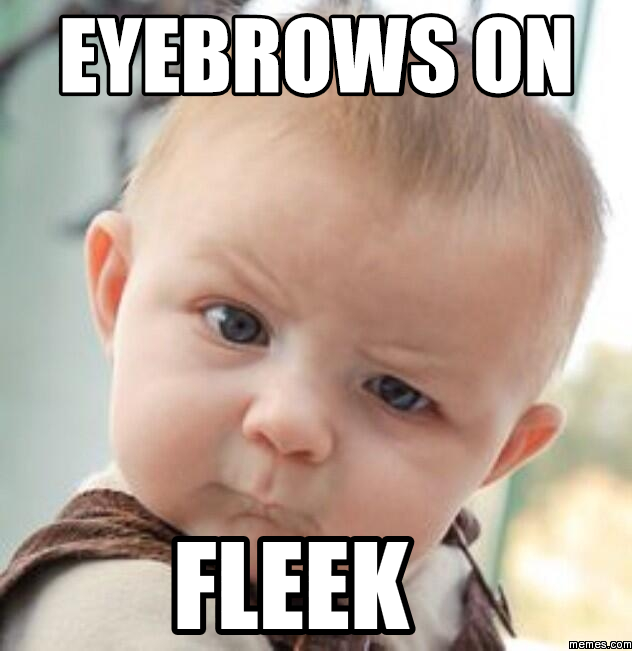 What it means, folks, is that whatever is "on fleek" is on point.
It's a good thing.
Later, when my fourth period class came in…the class that had originally told me I was a BWG, I told them that I was so not basic that I'd gone home and researched the term.
They laughed.
I told them that Megan had told me they were being mean.
They laughed.
I told them that my boots had been declared "on fleek," and they laughed.
Even harder.
Still, I felt vindicated.
I'd won.
Sort of.
So there.