Happy New Years to all of you!
I thought about posting yesterday…a couple of times throughout the day…but chose instead to vegetate.
I had a swatch to knit up and an OWL proposal to submit.  I'm going to make the Laminaria Shawl.
My yarn is Malabrigo Lace…
The color is Indigo.  I'll use the pink if I see that I'm running low by the time I hit the edging charts…
The pattern uses Estonian stitches.  Below, is the swatch, which is the 3-into-3 star.  I have notes on my Ravelry project page for how to correctly execute the stitch should you decide to make this shawl.
An OWL is a three-month project that must meet certain requirements.  This term in my Harry Potter knitting group, I'll be working my magic on a Charms project…one that requires a lace project and a minimum of 800 yards of fiber.  My proposal was accepted today, so I can officially cast on and begin!
I managed to find time to eat the most delicious vegan mac and cheese!!  Oh word, but this stuff is DIVINE!  I've been lactose-intolerant since I was seven months pregnant with Rooster.  Being able to eat this comfort food is like having a taste of heaven on earth.  I'm now on a mission to find a good recipe to make at home.
I watched a lot of football and knit a beanie…
I chose Auburn colors…
Watching my team lost in overtime wasn't fun, but it was par for the course this season.
Meanwhile, I kept knitting…and watching more football.
I might be a teensy bit happy…Go Oregon!
And the following…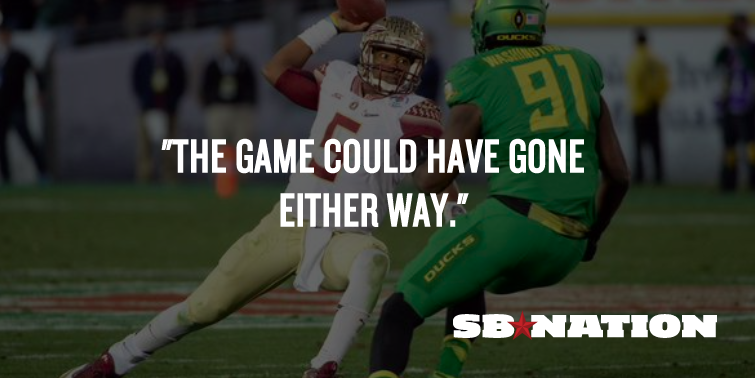 Um…no.  The game was a blowout.
😀
And I kept knitting on that beanie…
While watching the other school in Alabama get beat by Ohio State…
While I looked like this…
I finally finished the beanie, but it didn't fit the Mr., who I'd knit if for.
My head is obviously much more inflated, because it fits me perfectly.
I submitted it for my Flying assignment in my Harry Potter group.  It's supposed to be an upside-down cauldron.
Be impressed.
Oh, and before I turned out the light, I had to watch a couple of episodes of Downton Abbey.  I love, love, love this show!  It's so smartly written and makes me tear up frequently!  The one-liners are hilarious too!
Here's one from my viewing yesterday…
I hope you had a good first day of 2015!
Filed under: Knitting | Tagged: football, Knitting, New Year's |